MORIGO SEIKI CO., LTD. is the leading company of integrated washing machine in Japan.  We have added new lines of original products in the field of washing machine; high-performance and energy-saving washers and measuring devices of contamination.In this way, MORIGO SEIKI CO., LTD. has a lot of experience, and we may contribute to the elevation of your efficiency of work, as well as to the expedition of your environmental management.
 MORIGO SEIKI is also the manufacturer of highly advanced Hydraulic fluid machine parts and reduction gear for industrial use.We have taken an active part in the field of industry for more than 50 years!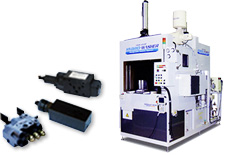 Here are new washing technology and products, created by MORIGO SEIKI CO., LTD. Our products mainly consist of Washers, Hydraulic fluid machine parts and Reduction gears. To get more information on our products, please see here.


 The main points about MORIGO SEIKI are here. If you would like to have a business talk with us, please contact us with no fail.